Ray Pfefferkorn, MOS 05B20
Nickname: PK
Vietman Dec 67 - Dec 68

DOWNLOAD VIETNAM VIDEO
To play using Windows Media Player (recommended) be sure your player is set up for .wmv files.
Open Windows Media Player, select "Tools", select "Options", select "File Types" tab. Be sure that "Media Video File"(wmv)box is checked.

UNITS

Sept 66
D Co. 3d BN 2d Training BDE
Ft. Bliss, Tx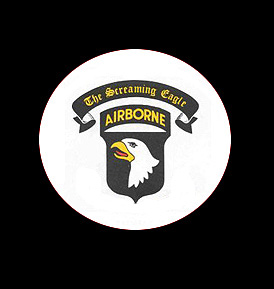 Nov 66
A Co. 1st BN, 1st STU BDE
Ft. Hauchuca, AZ

Jan 67
A Co. 1st BN, 1st STU BDE
Ft. Gordon, GA

Mar 67
42 Co. 4th STU BN, STU BDE
Ft. Benning, GA

May 67
HQ Co. 2d BN 506 INF, 101st ABN Div.
Ft. Campbell, KY

HHC 3d BDE, 101 ABN Div.
Ft. Campbell, KY

TDY Signal Detatchment
101st ABN Div.
West Point, NY
(Made my Cherry Blast 29 July, 67, Stewart AFB, Walkill DZ, C-119)


Dec. 67
HHC 3d BDE, 101st ABN Div.
APO SF 96383

HHC 3d BDE, 101st ABN Div.
Phouc Vinh, Vietnam

Aug 68
D Co. 3d BN, 187 INF, 101st ABN Div.
Phouc Vinh, Vietnam
Significant operations
Sept 5-6, Ap Trang Dau: A company overrun. 32 killed, 30 wounded.
Sept 16-17 Fire Support Base Pope, Tang Bang
Fire Support Base Pope. A 105mm Howitzer, 4.2mm and 81mm mortar base supported by 3/187th Airborne. Attacked by 2 Batallions of NVA. 4 US KIA. Over 150 NVA KIA.
3/187 awarded the Presidential Unit Citation for Extrodinary Heroism



Jan 69
Hq Battery, 1st BN, 6th Artillary
Ft Hood, TX

IN-COUTNRY BASES

Bien Hoa - Phouc Vinh - FSB Concord - FSB Davis - Dak To - FSB Dak Pek - Cu Chi - Dau Tieng - Phu Bai - Hue - FSB Judy - Camp Evans - FSB Helen - FSB Pope - Camp Eagle - Camp Whitehead



---
Email Ray
---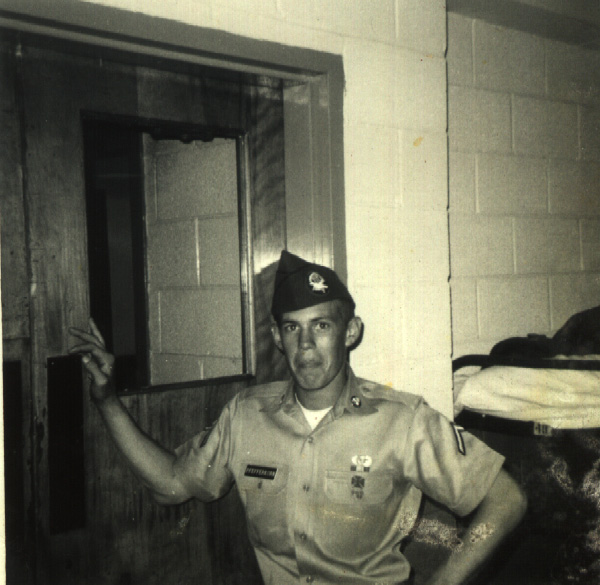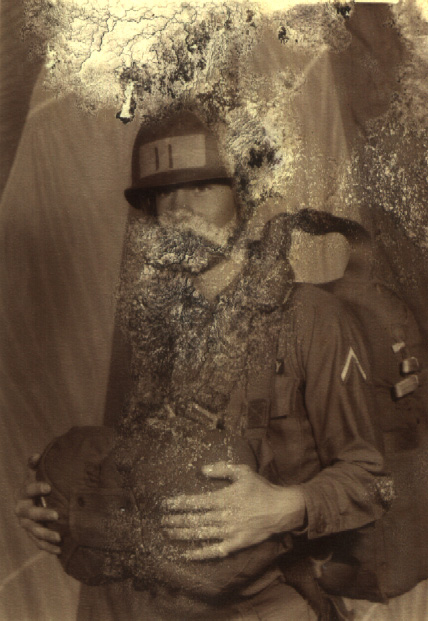 1.) Barracks, Fort Campbell Ky
2.) Jump School photo, Ft. Benning, GA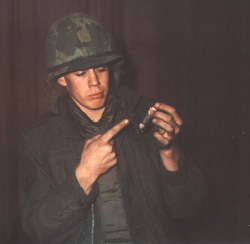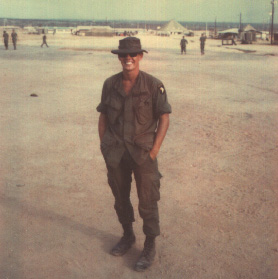 1.) Day B4 Leaving Campbell for Vietnam (still a boy)
2.) Last days in Vietnam, Bien Hoa Airbase - goin home (changed)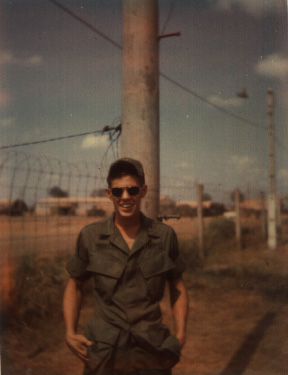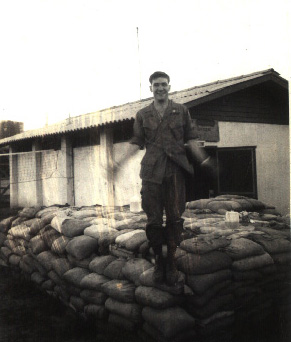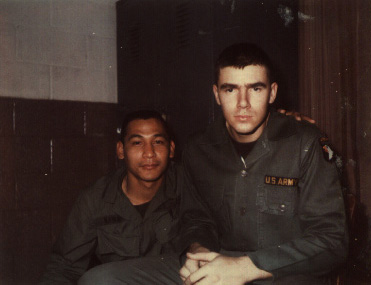 1.) Clean cut radio operator, HHC, 3d Bg, 101st Airborne
2.) Good friend, Jerry Langley ("If you wanna be a bird")
3.) Dave Davis and Kamamoto. Dave got out!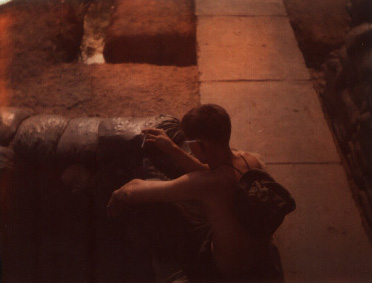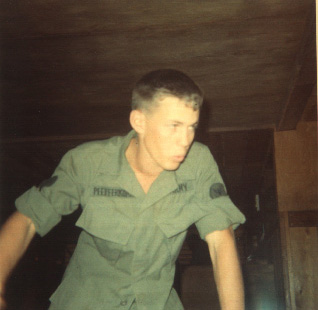 1.) Emptying tobacco from pack of Kools, you know the rest
2.) Phouc Vihn, after a rocket attack
3.) Didn't hurt a bit (after the morphine!)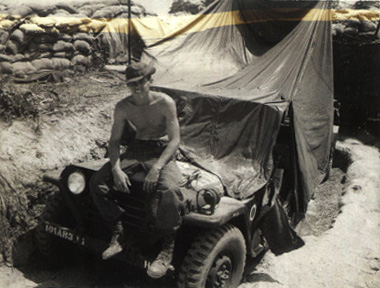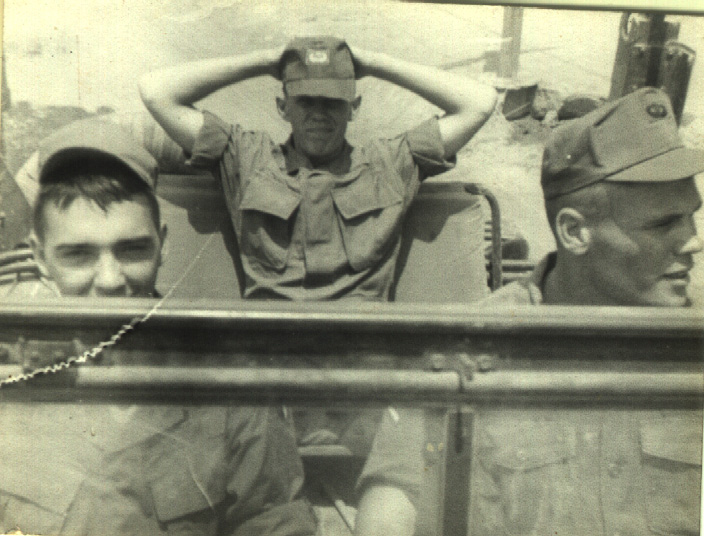 1.) Home, FSB Davis - Radio relay setup
2.) Yeah- I like it here!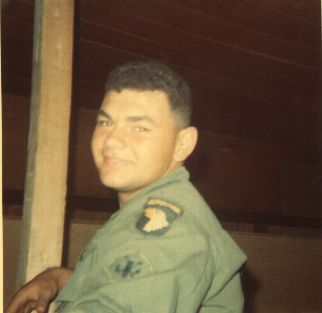 3.) Joe, can't remember his last name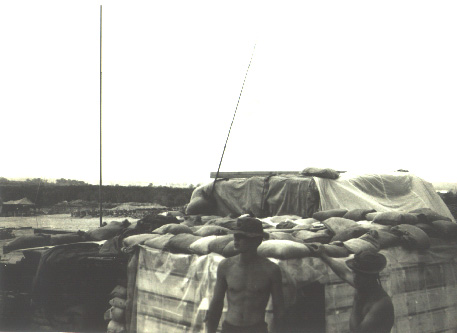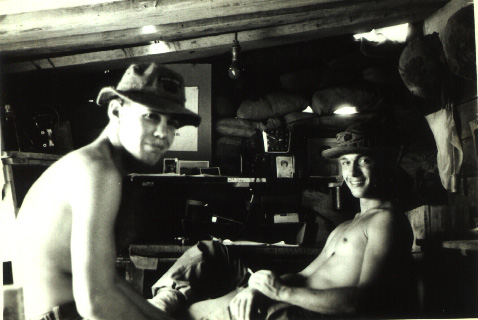 1.) The Bunker at FSB Davis. Me and Chesmore
2.) Me and Chesmore inside Bunker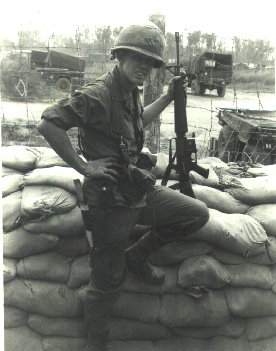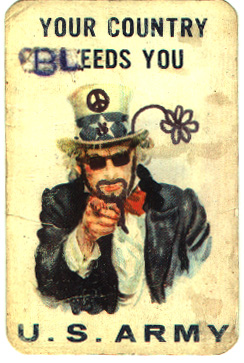 1.) Bad-ol' Paratroop! The photo you send home.
2.) My Short Timers card from Vietnam. Other side is the calendar, all blocked out!!!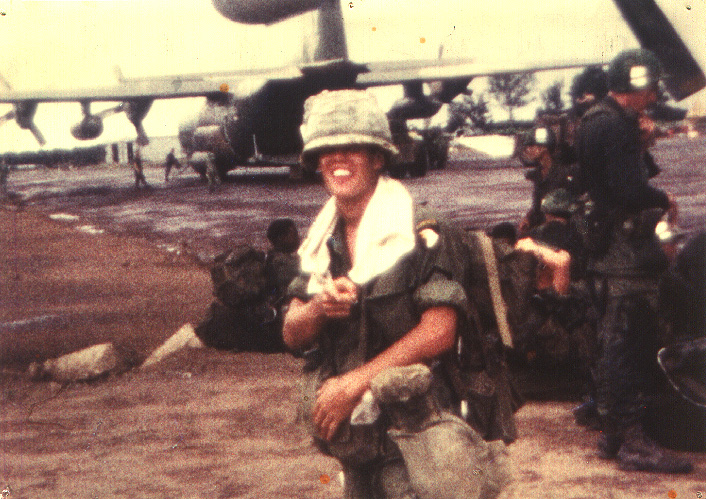 1.) At Phouc Vinh airfield - headed north to Camp Eagle with D Co.3/187.

August 1968 I was sent to the line. Joined 3/187th, Delta Company, 1st Platoon. With my Commo Mos I thought I would hump a radio (RTO) for a company commander...wrong, I was put on a rifle team having no infintry training at all. Thanks to Jerry Jerrett (my squad leader) I still breath air today.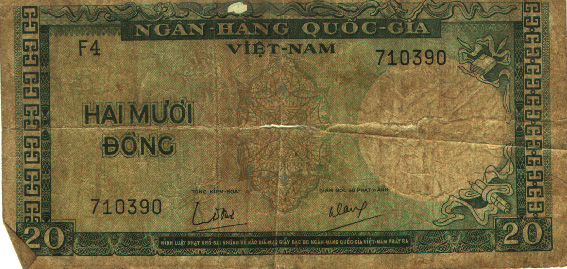 1.) Piasters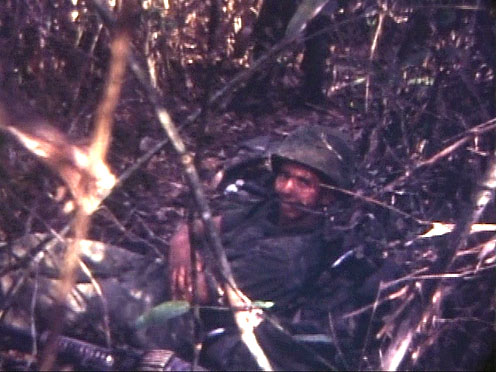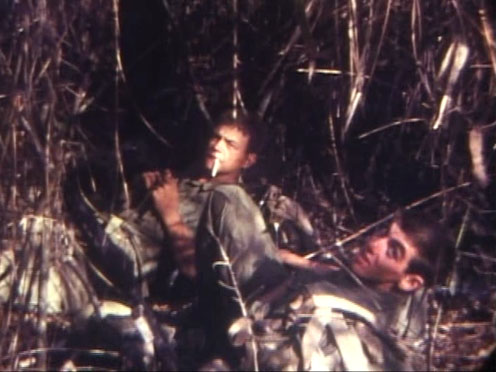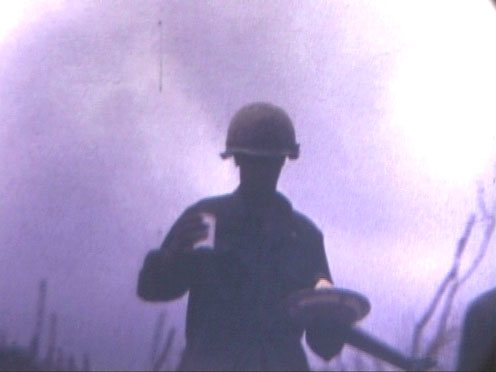 In the Bush - 1.) Holcumb 2.) Krasnasky and Jim Savage 3.) Max Mills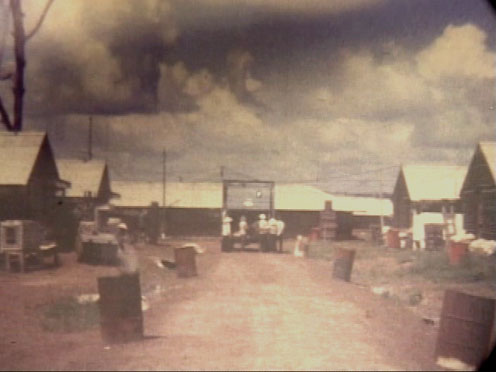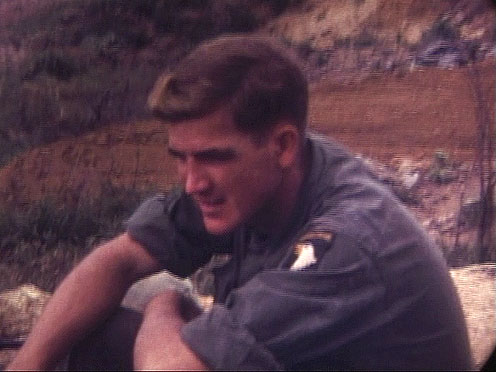 (1.) "Main Street", D co. 187th, Phouc Vinh (2.)Max Mills (3.)Dicky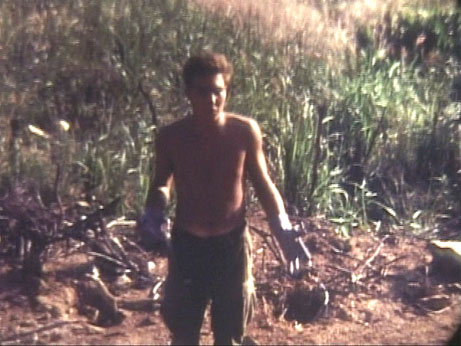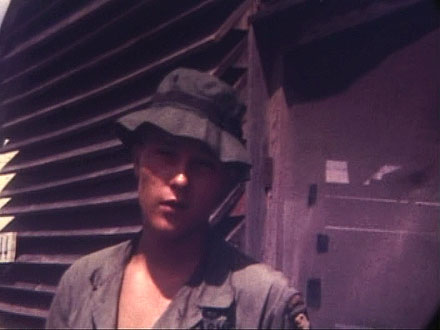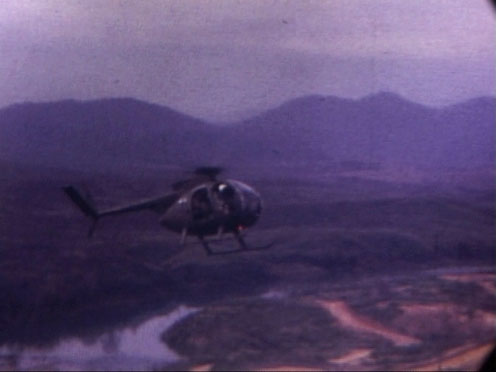 (1.) John Polega (bunker building) (2.)John agian @ Phouc Vinh (3.) Song Bai Bridge gaurd duty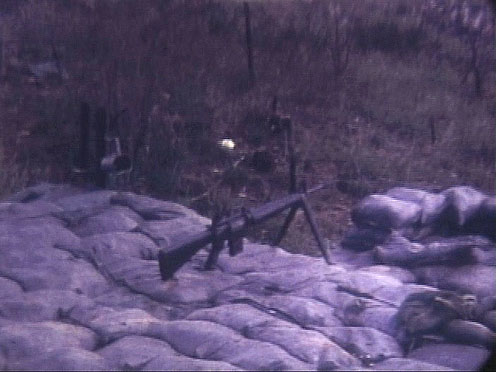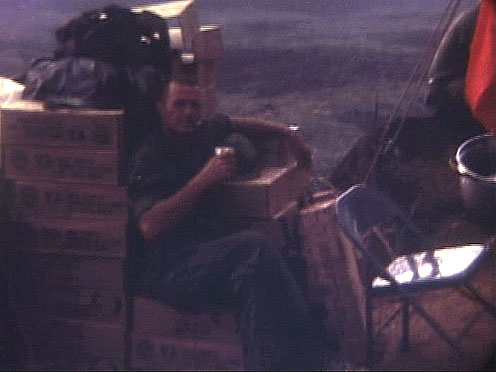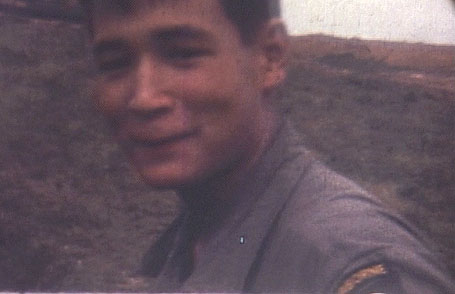 (1.) Bunker at Song Bai (2.) can't identify (3.) Masuda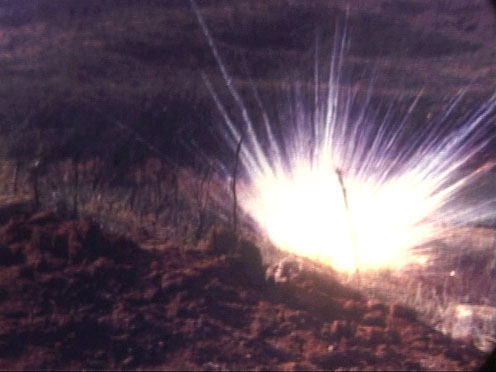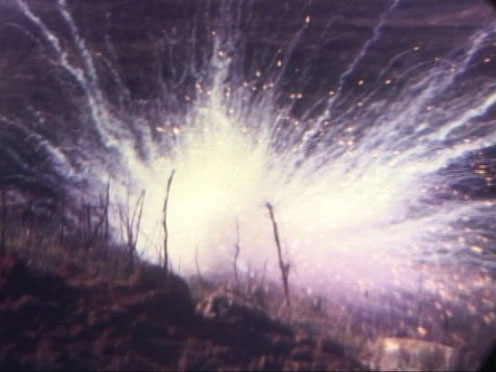 (1.) White Phosphorous grenade